Charter for Compassion Educational Forum
July 21, 2022 @ 3:30 pm

-

5:00 pm
Event Navigation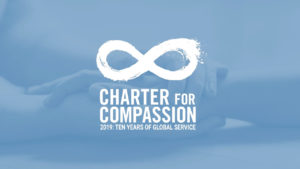 On Thursday 21st July, the Educational Forum of the Charter for Compassion will welcome Orla O'Sullivan, International Coordinator of Wake Up Schools to their EdNet Forum series.
Orla will speak about the three pillars of Wake Up Schools (embodiment, service, community) and our work to support educators to be happy teachers.
Charter for Compassion seeks to cultivate compassion to in every area, to support us to live more harmoniously and justly with each other and the planet.
"We urgently need to make compassion a clear, luminous and dynamic force in our polarized world. Rooted in a principled determination to transcend selfishness, compassion can break down political, dogmatic, ideological and religious boundaries. Born of our deep interdependence, compassion is essential to human relationships and to a fulfilled humanity. It is the path to enlightenment, and indispensable to the creation of a just economy and a peaceful global community."
The event will take place on Thursday 21st July 2022 at:
7.30am – 9am Pacific Time
3.30pm-5pm Ireland / UK
4.30pm-6pm Central European
You can read more about the Charter's work in Education here:
https://charterforcompassion.org/sectors/education
Register for the forum here (or at the link at the base of the page):
https://charterforcompassion.org/ed-net-forum/wake-up-schools?fbclid=IwAR1rSdf217NHQNvqXxo5iswIdSuT8-toJS_02c5sJc9GRRR6kSoNFJr2LTY