WEBINAR – Education for the Ecological Crisis
March 4 @ 7:00 am

-

9:00 am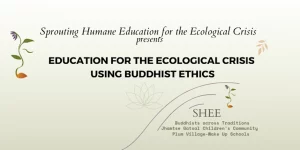 Saturday 4th March
7-9 am  PST | 3-5 pm GMT | 6-8 pm Uganda | 8:30-10:30 pm IST
(https://www.worldtimebuddy.com)
Join us in conversation with three amazing Buddhist practitioners who are innovating and actively transforming education of children, as they share how Buddhist ethical foundations of love, compassion and interconnection are being universally adopted into the present day learning centers of tomorrow.
We are grateful for this unique opportunity to bring together:
Bhante Bhikkhu Buddharakkhita

(Bhante B., Uganda)

Lobsang Phuntsok (Genla, India)

Brother Chan Pháp Dung

(Br Pháp Dung, USA)
These spiritual teachers from across 3 continents to connect with YOU and share in this vital global conversation, as we learn how humane-based education is being used to grow resilience, creativity and joy in the face of our ecological crisis.
Are you interested in learning about humane based education ?
Would you like to know how educating the heart, mind and body is a response to the ecological crisis?
Who is SHEE : Sprouting Humane Education for the Ecological Crisis (SHEE)
We are a global Community and open collaboration dedicated to "sprouting" conversations, ideas and solutions to the existential threat posed by the ecological (climate) crisis. We aspire to nurture growth using a humane education framework – meaning education that nurtures compassion and respect for all living beings, the environment and our interconnectedness to each other and to Mother Earth.
We hope you will join us as together SHEE conversations and actions move us beyond 'imagining' towards a world in which we manifest the world living as one (John Lennon).
SHEE is a collaboration between Buddhists across Traditions (BaT), Jhamtse Gatsal Children's Community ( JGCC) and Plum Village – Wake Up Schools.

Lobsang Phuntsok (India): Born in 1971 in Village Damgyen, Mon Tawang, Arunachal Pradesh, Lobsang Phuntsok was sent away to a monastery in South India at a young age by his grandparents. He studied Buddhist philosophy and practice at the Sera Jey Monastery in Mysore, Karnataka.
In 2000, Lobsang attended the Millennium World Peace Summit organized by the United Nations in New York City. He made a humble beginning from here and spent time in the US and Canada teaching and giving talks on the universal principles of Buddhism, compassion, education, peace and non- violence. Through his teaching and talks, Lobsang established learning centers in the United States and Canada.
In 2005, Lobsang founded Jhamtse International, a non-profit organization, dedicated to educating and nourishing hearts and minds in love, compassion, wisdom and tolerance. In 2006, Lobsang started Jhamtse Gatsal Children's Community in Lumla near his hometown in Arunachal Pradesh. Today, Jhamtse Gatsal (the garden of love and compassion) has more than 100 children in its care, including 25 graduates who are pursuing higher education in different parts of India.
Lobsang's story and that of Jhamtse Gatsal is beautifully told in the Emmy Award winning documentary 'Tashi and The Monk.' What was once called a "brave social experiment", Jhamtse Gatsal has become a pedagogical model (educating the heart, mind and body) that is changing education throughout India and around the world. The Community's sustainable and mindful living practices are impacting surrounding villages and inspiring people and communities on a global basis.
Bhante Buddharakkhita (Uganda): Venerable Bhante Buddharakkita was born in Uganda, Africa and encountered Buddhism in 1990 while studying and living in India. He was ordained as a Buddhist monk by the late Most Venerable Silananda in 2002 at the Tathagata Meditation Center in San Jose, California. He then spent eight years under the guidance of Bhante Henepola Gunaratana at the Bhavana Society, West Virginia. He is the founder and Abbot of the Uganda Buddhist Center in Uganda. Alongside being the Abbot and spending time at the Uganda Buddhist Center, he is a visiting professor at Union Theological Seminary in New York City, and he holds an Honorary Doctorate in Buddhist Studies from Mahachulalongkornrajavidyalaya University (MCU), Thailand. He is long-time member of Global Buddhist Relief's advisory council in New Jersey.
He has been teaching mindfulness meditation in Africa, the U.S., and worldwide since 2005, and he is a much-loved teacher in many countries. His book, Planting Dhamma Seeds: The Emergence of Buddhism in Africa, tells the story of his religious and spiritual work in the continent of his birth. He has is a visiting teacher with Spirit Rock and has been featured in several Buddhist journals (eg Tricycle, Lions Roar) and media, like the BBC, ABC, The Guardian.
Br Phap Dung (USA): Brother Chân Pháp Dung is a senior dharma teacher in the Plum Village tradition. Born in Vietnam in 1969 and having first trained as an architect, Br. Pháp Dung helped to establish Deer Park Monastery and other US centres and has led mindfulness retreats in many countries, including Uganda and India. Passionate about restoring our connection with mother earth, Br Pháp Dung represented Plum Village at the pivotal COP21 climate conference in Paris. He is happiest when he is immersed in nature.