Awakening Together: Peace in Oneself, Peace in the World — Mississippi & Tennessee Events
October 7, 2017

-

November 15, 2017
Event Navigation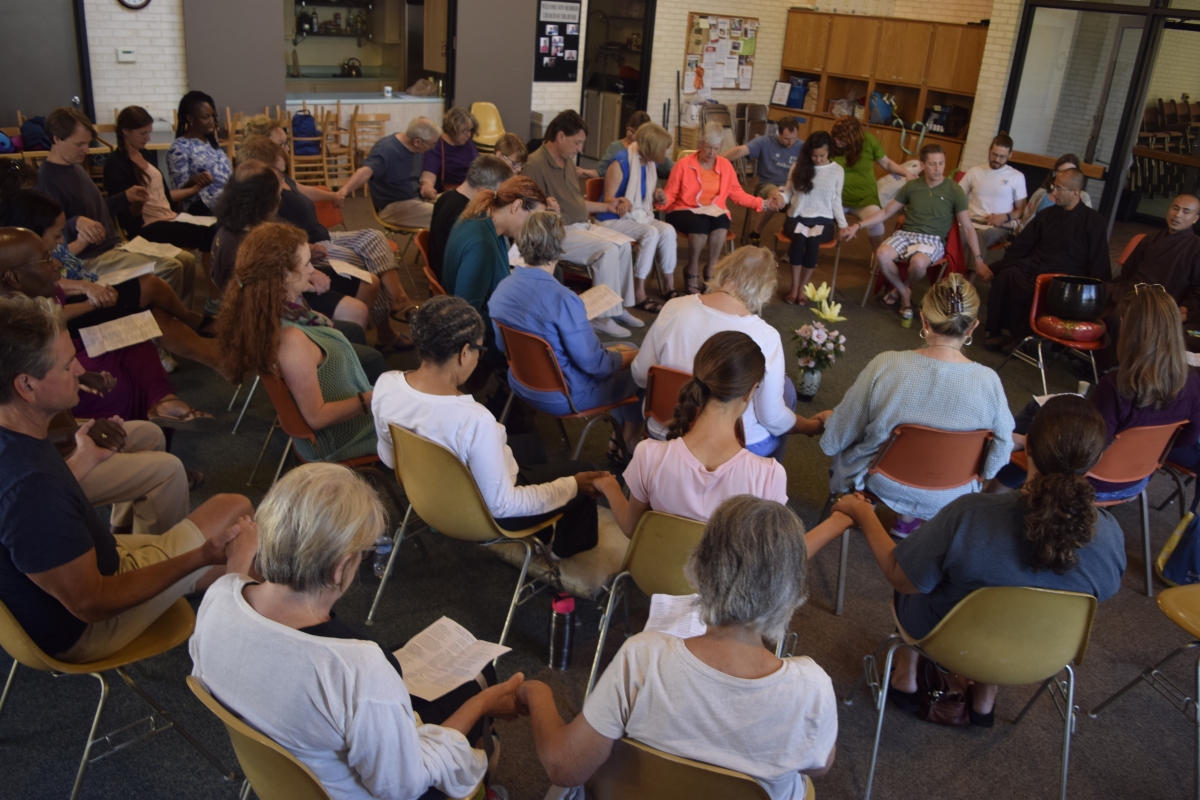 Join the monastic community founded, ordained and trained by Thich Nhat Hanh as they tour the United States to continue the legacy of the beloved Zen Master. Join us for retreats, public talks, and days of mindfulness, and learn how you can bring the miracle of mindfulness into your daily life.  #awakeningtogether
We invite you to join us for this special retreat experience as we will look closely at teachings and practices of mindfulness that can bring peace and serenity to our lives. "Peace in Oneself, Peace in the World" is our theme for this US TOUR, guided by the Monastic Disciples of Zen Master Thich Nhat Hanh in the Plum Village tradition coming from Plum Village, France, Deer Park Monastery, California, Blue Cliff Monastery, New York and Magnolia Grove Monastery, Mississippi.
The Buddha said that to have peace we must look deeply into the causes and conditions that produce peace.  He taught that we should find the "seeds" of peace in ourselves and in others.  And when we find those seeds we should water and nurture them to produce the beautiful flower of peace.
During this retreat we will look deeply into the causes and conditions that produce peace.  We will learn the principles and practices that transform our consciousness toward peace.  And with those same principles and practices, we can begin to bring peace to our community and the world.
"Peace in Oneself, Peace in the World".  Peace, serenity and freedom are ours, in this moment.  Come and join us for this beautiful event.
The Brothers and Sisters would like to invite all of you to return to the world of peaceful present moment.
We welcome families, couples and individuals of all ages, and all nationalities, to join us during this joyful and colorful time of living mindfully together.  The "Peace in Oneself, Peace in the World" retreat is a time to be nourished by deep yet accessible teachings, the peace and splendor of the fall countryside and the joy of community.  We will use the practices of mindfulness to touch the miracles of life in the midst of the mundane. The retreat includes daily teachings on mindfulness and sessions of walking meditation, sitting meditation and eating meditation. We will also have the chance to strengthen our capacities for deep listening and loving speech through the practices of Deep Relaxation, Touchings of the Earth, Beginning Anew, and Dharma sharing.
The Magnolia Grove Monks and Nuns will offer programs for all ages including, children (ages 6-12) and teens (ages 13-17).  The retreat is open to all, including beginners, those who have previously attended retreats, and families with children. The first part of the Dharma talks is normally dedicated to children. Parents are welcome to participate/volunteer to help out in the children's program if they would like.
This is an opportunity to come together as a spiritual family and cultivate togetherness.  Also, to refresh our relationships with not only our families, but also our relationship with Mother Earth and our ancestors.  It is a wonderful retreat for those new to mindfulness practice in the Plum Village tradition, as well as for anyone interested in mindful community life. We welcome the participation of people from all backgrounds. We are committed to fostering a practice environment where all may touch the Dharma and find healing and nourishment.
Events in Tennessee and Mississippi
October 7, 2017 | A Day in Memphis – Be Free Where You Are
Memphis, TN – 
October 8, 2017 | Day of Mindfulness
Batesville, MS – Magnolia Grove Monastery

October 10 – 15, 2017 | Peace in Oneself, Peace in the World
Batesville, MS – Magnolia Grove Monastery
Register Now