Educators Retreat – Wake Up Schools Level I
June 26, 2019 @ 5:00 pm

-

June 30, 2019 @ 3:00 pm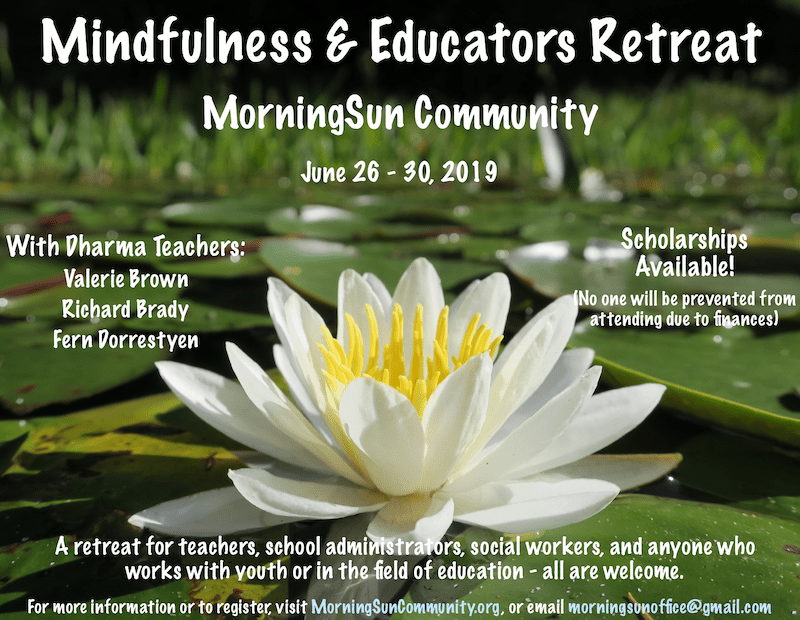 Dharma Teachers Valerie Brown, Richard Brady, and Fern Dorresteyn are teaming up to offer an Educators Retreat at MorningSun Community. We invite you to join these longtime educators and amazing Dharma Teachers from the tradition of Zen Master Thich Nhat Hanh for this special retreat. Classroom teachers, administrators, social workers, others in the educational field, and anyone who works with youth is encouraged to apply.
The retreat will help participants cultivate their own personal mindfulness practice and develop the language and skills needed to bring the practice back to the communities they serve. They will also learn effective methods to enhance focus, attention, kindness, and emotional well-being inside and outside the classroom.
The retreat center at MorningSun offers an intimate setting in nature that pleasantly supports our communal practice of mindfulness. The modest retreat size is a precious and powerful opportunity that allows for every participant to have personal contact with each of the Teachers.
We are excited to welcome you to our home and community of practice!
Learn and Explore Mindfulness Practices
This retreat is a Wake Up Schools Level I retreat.
Practices during the retreat will include:
Sitting Meditation
Mindful Eating
Walking Meditation
Deep Relaxation
Circle Sharing
Loving speech & deep listening
Beginning anew (conflict resolution)
Stopping, Pausing, and Looking Deeply
Bells of Mindfulness in Daily Life
The retreat will also include:
Workshops for sharing mindfulness practice with youth
Ways to support youth of diverse backgrounds and different privilege
How to support mindfulness practice among co-workers and school staff
And more…
Logistics:
Arrival for the retreat is Wednesday, June 26, from 3pm to 6pm
Departure is on Sunday after lunch on June 30th, at 3pm.
This is a small retreat and spaces are limited (35). Booking early is highly suggested as the retreat will likely sell out. The intimate nature of this small retreat size is rare for educators retreats, and registration will likely be closed well before the retreat begins.
You will receive confirmation of your space upon registration and receipt of payment. (see link to registration form below)
There are three parts to the program cost:
The program itself (offered on an affordable sliding scale)
Accommodations (costs vary from camping to dormitory rooms)
Dana (sliding scale contribution towards the compensation of the facilitators)
Please begin to fill out the registration form to calculate your total retreat cost.
Financial Assistance: Anyone who wishes to attend the retreat will be welcomed, no matter of financial ability. If the lowest tier is still too high for you, please follow the link to the Financial Assistance Application.
More detailed information about the retreat will be sent out to all of the registered participants in April.
For more questions, please email David Viafora at morningsunoffice@gmail.com