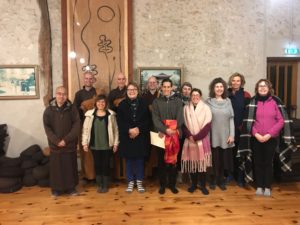 On 2 January 2020 we had the joy of supporting three friends in a ceremony to mark the completion of their Level II mentoring programme. This morning in the Transformation Hall, Upper Hamlet, Plum Village, Thay Phap Dung and Thay Phap Luu led the ceremony to support and welcome our three graduates.
The graduates have spent at least one year as part of Wake Up Schools 123 étape 2: connecting deeply with friends on the path and learning to take care of their suffering so that they can offer freshness and stability to their colleagues and students. They have received mentoring on how they can share the practice beautifully in their educational environment, and have developed trust and focus. We are very grateful to their mentor Hélène Le Bris and to Educ'Inspir for all the support they offer to so many,
Congratulations to our new graduates! May your path help many to take good care of their suffering, to realise that they are connected and to nourish deep happiness!