Educators mindfulness retreats offer people working in education a chance to come together to learn or develop the basic Plum Village mindfulness practices, share their experience and inspire each other to bring a greater sense of peace, calm and happiness into their classrooms.
After a number of successful retreats for educators in 2016, Wake Up Schools is happy to be able to confirm more for 2017:
-In April at the EIAB in Germany (in English).
-In June at Magnolia Grove Meditation Center in Mississippi, US.
– In July at Blue Cliff, New York, US and at the Avalokita Center in Italy (In Italian and English).
In addition, there will be regular days of mindfulness for educators in Hong Kong, and at the Maison D'Inspir in Paris (in French).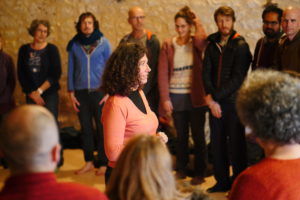 We also hope to be able to offer workshops for educators again in Plum Village over the 2017/18 New Year period.
To find out more about attending a mindfulness retreat for educators, please read this post which gives an account from the perspective of someone attending for the first time.
If you cannot find a retreat that suits your schedule, please consider visit to a Plum Village practice center to join another retreat. General retreats are offered throughout the year and still offer the opportunity to learn or reconnect with the core mindfulness practices which are so useful for educators to bring into their own lives and then their school environments.