Wake Up Schools will take part in The World Happiness Festival again this year, highlighting inspirational work from around the work and hosting a Q&A from Plum Village.
As part of this worldwide festival, we will be speaking with:
Wake Up Schools Level II teachers in France and in the USA about their experience of bringing mindfulness into the classroom.

Dharma teacher Lisi Ha Vinh, Director of Eurasia Foundation. Lisi will be speaking about her inspiring work with the Peaceful Bamboo Family in Hue, Vietnam.

Dharma teacher Shantum Seth and Gitanjali Varma Seth, who will share about Ahimsa Trust and their education work

in India, helping teachers to build community together and training student teachers to embody the practice and to teach mindfully.

Dharma teacher Ha Vinh Tho, Founder of Eurasia Learning Institute for Happiness and Wellbeing. Tho will share about the Happy Schools programme in Vietnam.
Prof. Katherine Weare and Adrian Bethune, who together lead

Education Policy at the Mindfulness Initiative, UK. They will speak about their work to increase happiness and wellbeing in UK Schools, drawing in the findings of recent research. Both have written award-winning books: Katherine is co-author of 'Happy Teachers Change the World' with Thich Nhat Hanh, and Adrian is author of 'Wellbeing In The Primary Classroom – A Practical Guide To Teaching Happiness'.

as part of her work as curator of the Mindfulness and Education strand of the festival, Orla O'Sullivan will also be speaking with Helen Maffini and Adam Avin: Helen is the founder and director of MindBE Education, and is co author of Developing Children's Emotional Intelligence. She runs the yearly Preschool Mindfulness Summit and the Global Mindfulness Summit which are held online. Adam is a teenager who founded the Kids Association for Mindfulness in Education, co-founded & hosted the Mindful Kids Peace Summit and gave a TedxYouthTalk on why mental health education is so important to stop violence in schools and using our voice to make a positive difference in the world.
Webinar: film screening of Happy Teachers Will Change the World
We will also be hosting a free webinar screening of Happy Teachers Will Change the World – filmed during an Educators Retreat in Brock University with Thich Nhat Hanh. The screening will be followed by a Q&A with its director Wouter Verhoeven.
About the film
Being a teacher in the world of today is a demanding job with lots of challenges, often resulting in stress and burn-out. Is there a solution?
In the film 'Happy Teachers Will Change the World' we see Zen Master Thich Nhat Hanh sharing the practice of mindfulness with 1300 teachers during a retreat in Canada. The teachers are invited to come back home to themselves through mindful walking, breathing, eating, total relaxation and noble silence. Looking deeply into their personal suffering, and sharing it in a group, they are able to transform it. Are they ready to go back to the classroom, to create a ripple effect of happiness into the world, starting with themselves and their students?
This film is suitable for any person who wants to cultivate happiness and freedom in his/her life, both teachers and non-teachers.
You can discover more of Evermind Media's work at https://evermind.media/
(In case of difficulty with the button above, the link address is: https://happinessagora.zoom.us/webinar/register/2215809848551/WN_BjuOVZfDQzetJWvIGzLLyA)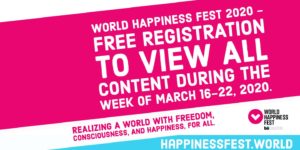 The festival is free for all to attend during the week.
The World Happiness Festival 2020 marks the UN International Day of Happiness on 20 March. The theme for 2020 is Happier Together.